Jack and Julia McNulty Pursue Everything They Do With Complete Dedication!
Ask anyone who knows Jack and Julia McNulty and they will tell you they don't do anything half way. When they have an interest in something, they focus all their drive and energy on taking it to the next level. They instantly recognized this quality about each other when they met and its been a catalyst in their successful marriage.
But their enthusiasm about what they do encompasses much more than their relationship. Whether it's their education, community involvement, or success in business, they go above and beyond the call of duty to make things happen and do it with total commitment.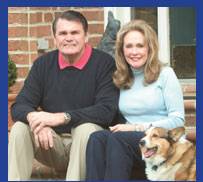 Jack and Julia love taking their Welsh Corgie, Teddy, out for a walk through their neighborhood and Colonial Williamsburg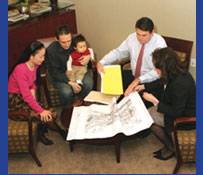 When you work with Jack and Julia, you get the benefit of working with two professionals with extensive business and educational backgrounds.
Objective:
To provide exceptional service in assisting our clients with their real estate needs.
Experience Matters!
Professional Experience:
Associate Broker/Realtor
Licensed since 1984 Graduate Realtors Institute I, II, III, GRI
Accredited Buyers Representative, ABR Seniors Real Estate Specialist
Top Sales Realtor Team Cendant Certified Marketing
specialist
Winner's Circle Luxury Home Marketing Specialist
Five Star Professional Award for 2013 for customer service
Top Producers & Top Listing Realtors
Certified E-Pro
WAAR – Outstanding Salesmanship Silver & Gold Awards — Platinum Awards & Team Platinum Award
Member – Williamsburg Area Association of Realtors Multiple Listing Service WAAR MLS
Member – Real Estate Information Network for the Peninsula Multiple Listing Service REIN MLS
You want to be sure your Realtor is well qualified and works full time!
You will benefit from our years of experience. We can provide you
with the most up-to-date market information available. Due to our "Realtor Network" we know about homes right when they go on the market — and occasionally even before they go on the market.
Our Company:
As a Real Estate Agent, We looked for a company that offered extensive training, quality service and teamwork. Berkshire Hathaway HomeServices Towne Realty's expertise and high standards offered us an opportunity to work with the best informed and educated individuals in the business.Berkshire Hathaway HomeServices' Relocation is a full-service global mobility management firm.
"Berkshire Hathaway HomeServices Relocation is transforming Global Mobility"!We now offer our own program for relocation assitance with greater benefits for you! When you speak with us ask us about our Relocation program.National recognition and award winning service…one more reason why you will benefit from choosing Berkshire Hathaway HomeServices Towne Realty.

Our Services:
When we act as your Buyer's Agent, The Home Search, Helping to Arrange Financing, Negotiating the Deal and Taking Care of the Details —- will not cost you anything! The listing agent welcomes buyer's agents and shares commission with them.During our years helping buyers with their real estate needs, we've learned that the best agents are always excellent negotiators. We have developed these skills from years of experience and training. We have also found that once an offer has been accepted, you must methodically take care of all the details that go into closing the sale, thereby ensuring that every deal is a done deal!That said, with all the emotion and stress that accompany nearly every sale,
we pride ourselves on making sure we do everything we can to make the experience as smooth as possible and hopefully enjoyable!